Hatteras Storm Panels

Affordable protection and peace of mind... are truly obtained when you choose Hurricane Shield Systems to protect your home or business. This strong interlocking panel system protects your doors and windows from the impact of flying debris.

Our flush mount design prevents any wind driven rain from entering your doors and windows and damaging walls and floors. Hatteras Storm Panels are not visible when not in use and so will not detract from the appearance of your home or business. It will last the life of your home and is simple and safe to install.

Installation

Don't like to climb high ladders? Hatteras Storm Panels install easily without having to climb to 2nd story windows. Click here to see how easy setup is.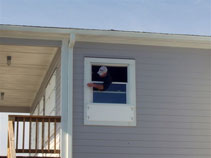 Custom Built

Hatteras Storm Panels are custom built on site to fit your windows and doors. Once each unit's panels are made, 3 inch stainless steel anchors are precisely installed flush with the surface. The panels are installed using strong, convenient T-knobs, checked for fit, then both knobs and panels are removed and placed in  storage.  The anchor is then fitted with either a nylon or stainless steel screw, protected and hidden from view.  We  offer an optional storage box for the panels and hardware.  This custom built unit can serve as extra seating on your deck or patio. 
Additional products
Hurricane Shield Systems also offers other products including custom made, hurricane rated operable shutters and a clear panel alternative to the hurricane panels, suitable for specialty and inoperable windows and may be left up during t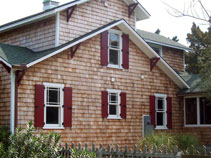 he hurricane season or even year round.  We also offer  Storm-Buster, a  new light weight and cost effective alternative to plywood.  Please contact us or click here for more information about these products.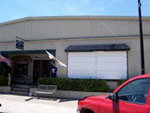 We also specialize in commercial & industrial installations!